I wanted to share a recent letter from our email bag. Bill needed some help coming up with a few creative ideas for his new cottage garden project. He is trying to pull together a little cottage garden complete with raised beds and a Victorian style chicken coop, where an old above ground swimming pool used to be.
As I share with Bill, I hope a few of these ideas will also give you the creative boost that you need to get started on your own garden projects!
Pearl,
I enjoyed seeing the display of boxes. I have made a couple of Halloween boxes out of cigar boxes. They were appreciated. We have a church auction in October and I plan to make more boxes.

Help me out here….I have an 8′ x 10′ garden shed that has been used for chickens and is currently occupied by rabbits. I would like to re-paint it and decorate it in a Victorian style.

We recently removed an 18′ round above ground pool from the yard. I am making two 4′ x 8′ raised beds to put in this area, and I will also be using some wrought iron type fencing with it.

Any decorating ideas would be appreciated.

Bill
Dear Bill,
When you're starting from scratch, you have so many wonderful options! You could do just about anything you can imagine to your little building!
Here are a few ideas to get you started.
You could…
Simply give it a pretty coat of paint
Paint a mural on the outside to make it look like a victorian house
Add a few wooden elements from an old Victorian house (can be found at salvage yards)
Put in a few stained glass windows – or paint the current windows with glass paint to look like stained glass windows… you can't tell the difference from a short distance!
Add a pretty front door, which you've painted a pretty color 😉
Add some wooden window shutters
Add a cupola on top
Put shingles, recycled slate, or tin on the roof
After you paint, add some white picket fencing around the outside of the building (you could nail it right to the sides)
Add a few window boxes & fill with pretty flowers & climbing vines such as morning glories
Add a few stones around the front to plant a "little cottage garden" inside
Lay down some flagstones for a cobblestone path
Make a little wattle fence to go around the Victorian cottage
If you don't have any windows, hang up an empty window frame & treat it like a real window
Don't let the fear of the "expected price tag" keep you from getting started with this wonderful project! Many times, you will be able to get these elements for free or very low cost if you think creatively!

Here's where to start:

– Yard sales
– Flea markets
– Salvage yards
– CraigsList.com
– Free section of newspaper
– Along the curb (many times you'll see a free sign)
– Beside a dumpster
– Construction sites, they will usually let you have discarded items free!
– Check with your local township to see what houses are scheduled to come down in your area, then go have a look & see if you can use anything in your project… ask for it 😉


Here are some more beautiful pictures of Garden Sheds to give you even some more ideas!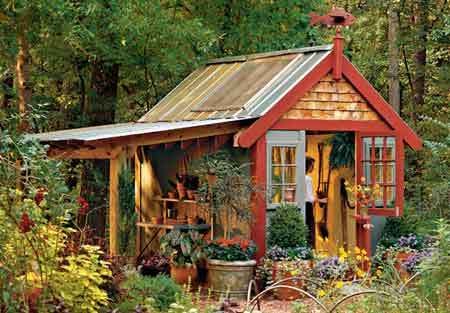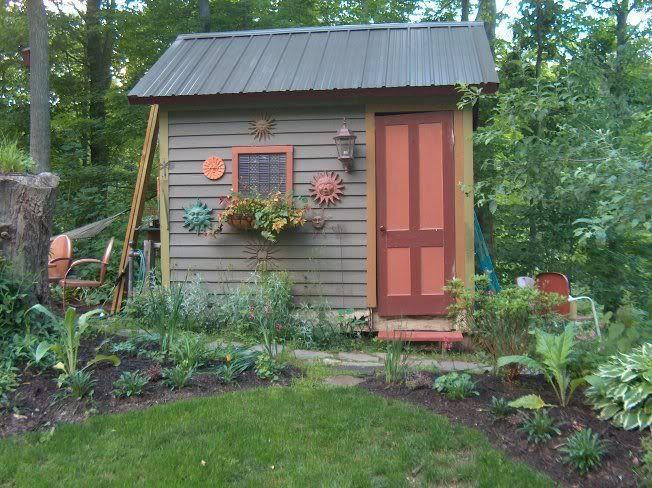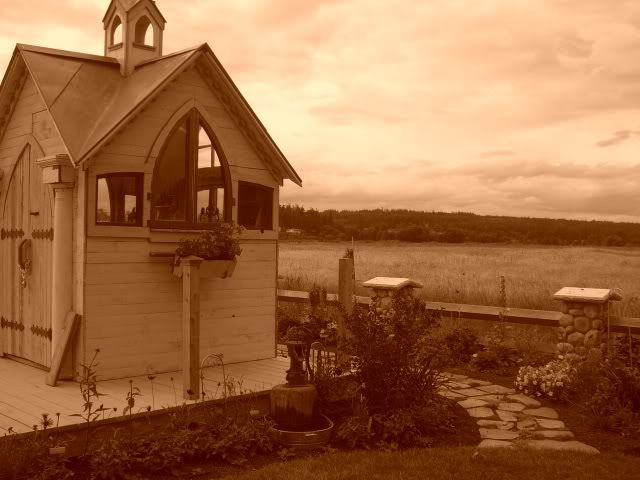 Here is a very tiny house (used as a light in the cottage garden), that you can quickly gather ideas from.

And… if all else fails & you can't decide what to do with your garden shed… try this 😉